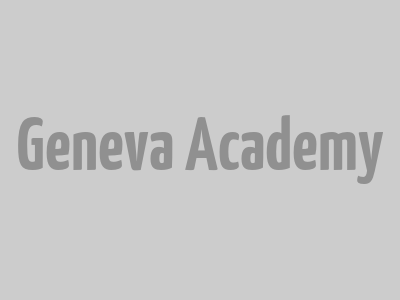 RULAC view - October 2012
---
The conflict in Syria
1. Overview of the conflict
Peaceful anti-government protests began in February-March 2011 and spread from Dar'a to Al Ldhiqiyah, Baniyas, Damascus, Dayr Az Zawr, Homs, Hama and Idlib. Protesters, calling for far-reaching legal, economic and political reforms and, subsequently, the toppling of President Assad, were soon met with violence by the Government's army, security forces and militias. Widespread arrests and accounts of torture in detention soon followed. Since the beginning of hostilities, the opposition has crystallised and strengthened both politically and militarily. The level of violence has increased steadily, transforming the conflict and its adequate qualification under international law (see below). The international response to the conflict has varied and, while sanctions have been imposed by individual countries, as well as the European Union and the League of Arab States, the 'uncertain international context' has hindered the prospects of a political solution to the conflict.[Endnote] (For more detail on the international response to the Syrian conflict, see the 'Current conflicts' section of the Syrian profile.)
At its seventeenth special session, the Human Rights Council mandated an Independent International Commission of Inquiry on the Syrian Arab Republic (hereinafter 'Commission of Inquiry') with the task of investigating human rights abuses in the country since March 2011, to establish the facts and circumstances that may amount to such violations, and to identify, where possible, those responsible.[Endnote] The three reports issued by the Commission thus far form the basis of the ensuing analysis, corroborated with reports by international and national NGOs, where available.

2. Qualification of the conflict
Due to the extent and sustained nature of armed violence and to the level of organization of the non-state armed groups fighting against the Syrian regime, the RULAC believes that the situation across Syria is an armed conflict of a non-international character. A similar assessment has been made by the International Committee of the Red Cross (ICRC).
In June 2012, UN Under-Secretary-General for Peacekeeping Operations Herve Ladsous stated that the situation in Syria could be called a civil war. Previously, armed conflict had been limited to a relatively small and distinct number of areas. In early May 2012, the President of the ICRC had declared that the violence in at least two places had reached the threshold of an armed conflict of a non-international character governed by international humanitarian law. Jakob Kellenberger had said that conflict in Homs and the province of Idlib met the three criteria of a non-international armed conflict: intensity, duration, and the level of organisation of rebels fighting government forces.

In its first, November 2011, report, the Commission of Inquiry expressed its concern 'that the armed violence in the Syrian Arab Republic risks rising to the level of an "internal armed conflict" under international law'. In February 2012, the Commission reported that Syria was 'on the brink' of a non-international armed conflict, with the violence in some areas reaching the requisite level of intensity but the level of organisation of anti-Government armed group remaining unclear. By its August 2012 report, the Commission also found that the Syrian conflict had reached such intensity and duration as to be deemed a non-international armed conflict:

During the reporting period, the commission of inquiry determined that the intensity and duration of the conflict, combined with the increased organizational capabilities of anti- Government armed groups, had met the legal threshold for a non-international armed conflict.

Given this qualification, rules of international humanitarian law apply to the parties of the conflict, alongside their international human rights law obligations. (For a more extensive analysis, see the 'Applicable international law' section of the Syrian profile.)
3. Parties to the conflict
Already in its first report, the Commission of Inquiry sought to shed light on the parties to the conflict, identifying the Government forces thus:
The Syrian Arab Armed Forces comprise the Army, the Navy and the Air Force. They are responsible for defending the national territory and protecting the State from internal threats. Numbering around 300,000, the armed forces are organized into three corps with a total of 12 divisions: seven armoured, three mechanized, one Republican Guard and the Special Forces. Elite units include the 10,000-man Republican Guard, under the President's control, tasked to counter any threat from dissident military forces, and the 20,000-man Fourth Division, which is commanded by Maher Al Assad, the President's brother.
The State security apparatus is reported to be large and effective, with a multitude of security forces and intelligence agencies that have overlapping missions. They play a powerful role in Syrian society, monitoring and repressing opposition to the Government. The internal security apparatus includes police forces under the Ministry of the Interior, Syrian Military Intelligence, Air Force Intelligence, the National Security Bureau, the Political Security Directorate and the General Intelligence Directorate. The latter consists of 25,000 members formally under the Ministry of the Interior but reporting directly to the President and his inner circle. It includes Internal Security (also known as the State Security Service), External Security and the Palestine Division.
The militia includes the Shabbiha, which is composed of an estimated 10,000 civilians, who are armed by the Government and are widely used to crush anti-Government demonstrations alongside national security forces; and the People's Army, a Baath party militia with an estimated 100,000 reservists, designed to provide additional security and protection in cities in times of war.
By the Commission's second report, the armed opposition in the country had reached a higher level of organisation, reflected in the Commission's account:
Many among the anti-Government armed groups identify themselves as FSA [Free Syrian army] and consist of defectors (mainly from the army) and an increasing number of armed civilians. The FSA leadership resides abroad and its control over the different FSA groups inside the country remains unclear. In mid-January, the FSA leadership and the Syrian National Council agreed to improve their coordination.
Most FSA groups initially adopted a defensive posture. More recently, a number of FSA groups carried out offensive operations targeting checkpoints, installations of State forces, police stations and Government vehicles.
The Commission had found itself unable 'to verify the existence of a functioning chain of command or a superior/subordinate relationship between the highest leadership of the FSA and local units' as of February 2012,given that it could not
ascertain the extent to which the FSA leadership abroad commanded and controlled the various FSA groups operating in the Syrian Arab Republic. It received conflicting accounts from inside the country. Some local groups seem to recognize the leadership, yet may not communicate with it regularly or receive specific orders from it. Others merely adopt the name "FSA" to underscore their revolutionary aspirations, their army background or the fact that they are not Shabbiha. The commission also received information about Syrian civilians reinforcing anti-Government armed groups, which increases problems of effective control even at the level of local FSA groups. The FSA leadership abroad indicated to the commission that groups on the ground did not receive orders from it. The leadership saw its role as facilitating coordination between different FSA groups and ensuring its media outreach.
By August 2012, however, the Commission accepted that the FSA's level of organisation had increased, noting that
The FSA took measures to address the apparent deficiencies in its overall effective command structure. In some governorates, the FSA created local military councils that claimed leadership over groups fighting in those areas. Many groups claimed affiliation with the FSA, while other groups are emerging without a pronounced affiliation with it.
Moreover, the Commission confirmed the presence in Syria of Islamist group Al-Nusrah Front for the People of the Levant, allegedly linked with Al-Qaida, which claimed responsibility for attacks including suicide bombings against Government forces and senior officials.[Endnote] Self-defence groups were also reported in several localities.[Endnote] (See also the 'Non-state actors' section of Syria's profile.)
4. Reported human rights abuses and violations of international humanitarian law
Reports of human rights abuses surfaced since the early days of the Syrian conflict. They have culminated in the Commission of Inquiry's August 2012 report pointing to both crimes against humanity and war crimes as having been committed during the conflict, alongside gross violations of human rights. The Commission
found reasonable grounds to believe that Government forces and the Shabbiha had committed the crimes against humanity of murder and of torture, war crimes and gross violations of international human rights law and international humanitarian law, including unlawful killing, torture, arbitrary arrest and detention, sexual violence, indiscriminate attack, pillaging and destruction of property.[Endnote]
All of these are discussed in greater detail below, including reports of similar crimes perpetrated by anti-Government armed groups. With respect to tactics used, the Commission explained that
The Government increasingly deployed its troops and heavy equipment in operations against areas perceived to be supporting opposition groups. All army divisions and security services engaged in military operations. Typically, such operations began with the cordoning off of a targeted area with checkpoints, then shelling as a prelude to incursions by ground forces to dislodge insurgents and their supporters. Shelling was also used in the context of direct clashes and in operations to quell demonstrations. Air assets also fired on fighters and unarmed demonstrators in localities under the influence of armed groups.[Endnote]
The Government was also found to be targeting major cities and to often carry out operations alongside the Shabbiha militia, though the latter's 'nature, strength and relationship to the Government remains unclear.'[Endnote]
Anti-Government armed groups were also found to have expanded their activities throughout the country and to be fighting inside the capital 'while establishing sanctuaries throughout the rest of the country.'[Endnote] Not only were they fighting on multiple fronts, 'through direct clashes, ambushes and raids' and, reportedly, with foreign fighters amidst their ranks, but these groups had improved 'their access to and capacity to effectively use available weapons' and 'appeared to have access to increased funding and logistical support.'[Endnote]

5. Unlawful killings and indiscriminate attacks in civilian areas
From the onset, the Syrian conflict was characterised by repeated attacks on unarmed civilians. According to the Commission of Inquiry, both Government forces and anti-Government armed groups are guilty of extrajudicial killings. The Commission has noted, however, that 'the gravity, frequency and scale of the violations committed by Government forces and Shabbiha was…well in excess of those committed by anti-Government armed groups.'[Endnote]
Peaceful public assemblies and funeral processions were targeted according to the Commission's November 2011 report,[Endnote] and there was evidence of State forces having been given orders to shoot at unarmed protesters, without warning.[Endnote] Those refusing to carry out orders were also reportedly summarily killed.[Endnote] The scale of attacks increased alongside the scale of the conflict. Thus, in its February 2012 report, the Commission of Inquiry indicated that army snipers and Shabbiha gunmen were terrorising the population, 'targeting and killing small children, women and other unarmed civilians'; fragmentation bombs were fired into densely populated neighbourhoods; heavy weaponry was used in bombardments without prior warning to the population; villages were shelled by tanks and anti-aircraft guns and rockets.[Endnote] By August 2012, the Commission was confident enough in its findings to indicate that where attacks were directed at residential areas, there were 'reasonable grounds to believe that the war crime of attacking civilians was perpetrated'.[Endnote] Moreover,
In towns and villages where there was a pattern of blockade, shelling, ground assault and house-to-house searches, the conditions for a widespread or systematic attack against a predominately civilian population were met. The scale of the attacks, their repetitive nature, the level of excessive force consistently used, the indiscriminate nature of the shelling and the coordinated nature of the attacks led the commission to conclude that they had been conducted pursuant to State policy.[Endnote]
Finding that tanks, mortars, helicopter gunships and even cluster munitions had been used in patterns of shelling followed by ground assaults by Government forces, the Commission 'determined that the legal threshold for an indiscriminate attack as a violation of customary international humanitarian law was reached'.[Endnote]
With regard to anti-Government armed groups, the Commission could not corroborate allegations of indiscriminate attacks on civilians. It did however document cases of killings of 'captured Government soldiers, Shabbiha and informers who admitted taking part in military attacks', occasionally facing a quasi-judicial process prior to execution.[Endnote] The Commission noted that, with or without such a 'trial', such executions could reasonably be found to amount to the war crimes of murder or of sentencing or execution without due process.[Endnote] Its findings echoed existing reports of armed groups carrying out executions as revenge for Government action against the opposition.[Endnote]
International NGOs, like the Commission, have recalled numerous instances of unlawful killings and extrajudicial executions of both civilians and opposition fighters.[Endnote] They have called on Syrian authorities to stop indiscriminate attacks causing civilian casualties. Amnesty International, for instance, has reported on peaceful demonstrations targeted and of 'hundreds of bystanders' killed and injured as a result of indiscriminate shooting and shelling by Syrian armed forces.[Endnote] Moreover, it has spoken of how 'uniformed security forces and plain-clothes militias repeatedly shoot[] with Kalashnikov rifles as well as with shotguns that fire deadly metal pellets into crowds of demonstrators', in violation of international human rights law standards governing the use of force.[Endnote] Human Rights Watch, too, has reported on the Government use of 'large-calibre machine-guns, tanks, and mortars to fire indiscriminately at buildings and people in the street',[Endnote] as well as on 'dozens of 81-mm and 121-mm shells' being launched into the town of al-Qusayr in the Homs governorate on a daily basis in February-March 2012.[Endnote] Civilians trying to flee the country have been targeted.[Endnote] More recently, Amnesty International has drawn attention to the fact that, in the current phase of the Syrian conflict, indiscriminate attacks 'account for the overwhelming majority of civilian casualties…and have forced massive displacement.'[Endnote] Among the weapons used daily against civilians, in violation of international humanitarian law, are 'battlefield weapons and munitions – unguided bombs dropped from the air and imprecise artillery shells and mortars which have a wide impact radius and cannot be aimed at specific targets'.[Endnote]
Figures tallying the dead vary. The national NGO Syria Violations Documentation Centre (VDC) put the total number of casualties of the conflict at over 29,000 as of October 2012, of which more than 25,500 were civilians. The UK-based Syrian Observatory for Human Rights put the figure at 32,000, of which 23,000 civilians, while the Local Coordination Committees (LCC) reported the death toll at more than 30,000, of which 28,000 civilians for the same period.

6. Arbitrary detention and enforced disappearances
Arbitrary arrests have been documented in Syria since the beginning of the violence. The Commission of Inquiry has indicated four large categories of targets for such arrests: 'those believed to be planning to defect or who had refused to follow orders (usually to open fire against civilians); during house searches; at checkpoints; and protesters, either at or subsequent to protests.'[Endnote] It has also identified similar patterns according to which arrests are made during protests, at checkpoints on the basis of lists of wanted persons, and during larger-scale raids or house-to-house searches.[Endnote] The number of detainees is uncertain, ranging from the 2,185 in 97 places of detention documented by the United Nations Supervision Mission in Syria (UNSMIS) as of 25 June 2012[Endnote] to over 31,000 reported by the Syria Violations Documentation Centre (VDC) as of October 2012. The Commission expressed particular concern with regard to 'the detention of individuals without charge, the failure to provide detainees with legal counsel or family visits and the absence in most cases of any form of judicial review.'[Endnote] It faulted the Government for failing to acknowledge the arrest and detention or to disclose the fate of persons, thus making itself guilty of the crime of enforced disappearance.[Endnote] Armed groups including the FSA were accused of carrying out abductions, in some cases resulting in torture and killings.[Endnote]
International NGOs also have consistently documented practices of arbitrary detention and enforced disappearances in Syria, including of the elderly, the disabled, women, and children.[Endnote]
7. Torture and other forms of ill-treatment
Accounts of torture and ill-treatment in detention abound. The Commission of Inquiry's November 2011 report identified these among the torture methods used: 'severe beatings with batons and cables', 'prolonged stress position for hours or even days in a row, electroshocks and deprivation of food, water and sleep', cell overcrowding forcing detainees to take turns to sleep, blindfolding and handcuffing.[Endnote] Children were not spared, nor were defectors who had attempted to spare civilian life.[Endnote] Torture was also perpetrated in public and military hospitals where security officers dressed as doctors interrogated patients suspected of participation in opposition activities or armed attacks, sometimes with the complicity of medical personnel.[Endnote] The makeshift clinics set up in mosques and private houses as a result of the climate of fear amidst the population also became targets of attacks.[Endnote]
To its February 2012 report, the Commission annexed a list of 38 detention facilities across twelve Syrian cities where it had documented cases of torture.[Endnote] A July 2012 Human Rights Watch report mapped out Syria's 'torture archipelago', focusing on 27 detention centres where torture had been documented. These included prisons under the jurisdiction of the country's four main intelligence agencies: the Department of Military Intelligence, the Air Force Intelligence Directorate, the Political Security Directorate, the General Intelligence Directorate, as well as ad hoc and joint detention facilities.[Endnote]
In its August 2012 report, the Commission of Inquiry documented even more methods of torture employed during the conflict, including beatings, electric shocks, prolonged stress positions, sexual violence (see below), and threats and humiliation. It described them as 'consistent across the country'.[Endnote] The precarious conditions of detention, if verified, would be in breach of the United Nations Standard Minimum Rules for the Treatment of Prisoners.[Endnote] The Commission also 'determined that severe pain was inflicted upon persons in official and unofficial detention centres, during house searches and at checkpoints. It also found that torture was inflicted to punish, to humiliate or to extract information'.[Endnote] Furthermore,
The commission found reasonable grounds to believe that torture was perpetrated as part of a widespread attack directed against civilians by Government forces and Shabbiha who had knowledge of the attack. It concludes that torture as a crime against humanity and as a war crime was committed by Government forces and Shabbiha members. Members of security forces, in particular military and air force intelligence, appear to be primarily responsible for torture and ill-treatment. The commission noted the involvement of Shabbiha members in acts of torture in unofficial detention centres in Homs in February and March.[Endnote]
Other forms of treatment, such as forcibly shaving detainees or having them imitate dogs, as well as the conditions of detention were found to constitute cruel, inhuman or degrading treatment.[Endnote]
Anti-Government armed groups have also been documented as using torture during interrogations and prior to executions. Thus,
The commission found reasonable grounds to believe that torture and other forms of ill-treatment were committed by anti-Government armed groups during interrogation of captured members of Government forces and the Shabbiha. It determines that severe pain was inflicted to punish, to humiliate or to extract information.[Endnote]
It indicated that such acts could be prosecuted as a war crime.[Endnote] Similar reports of armed groups employing torture against captured Government fighters have been issued by international NGOs.[Endnote]
8. Sexual violence
Accounts of sexual violence were first documented by the Commission of Inquiry as largely perpetrated against male detainees, with limited evidence of abuses on female detainees.[Endnote] However, as the conflict continued, the Commission found 'reasonable grounds to believe rape and sexual assault were perpetrated against men, women and children by Government forces and Shabbiha members'.[Endnote] Its August 2012 report pointed to two circumstances where rape and other forms of sexual violence occurred: during house searches and at checkpoints and in places of detention. Rapes in detention were usually committed as part of torture and/or ill-treatment, whereas rapes perpetrated during military operations were indicated by the Commission as possible crimes against humanity.[Endnote]
In a June 2012 report, Human Rights Watch echoed these findings, emphasising that sexual violence was not limited to detention facilities but occurred also 'during home raids and residential sweeps'.[Endnote] The report chastised the apparent impunity with which such crimes were perpetrated, the more so as they appeared to occur 'on an apparently regular basis in detention centres under the full control of particular commanders'.[Endnote]
9. Violations of children's rights
With regard to children, the Commission of inquiry has pointed to abuses committed against them from its first report. In it, the Commission indicated that killing or injuring of children by beatings or shooting during demonstrations had occurred, as well as detention of children as young as ten in various locations run by the military or security forces and torture, including sexual torture, applied equally to adults and children.[Endnote] The Commission's second report counted the number of child victims between March 2011-February 2012 as more than 500,[Endnote] though unofficial reports have put forth much higher figures.[Endnote] The period between 15 February 2012 and August 2012, when the Commission's third report came out, saw the addition of 125 children to the death toll, mostly boys, killed during attacks on protests, during the shelling of residential areas, by snipers, or during military ground operations and house searches.[Endnote] While the Commission did not find evidence of the Government formally conscripting or enlisting children, it did document incidents where they had been used as hostages or human shields.[Endnote] Anti-Government armed groups, including the FSA, were found to be using children 'in support roles, such as assisting medical evacuations or as couriers'.[Endnote] Despite assurances that an FSA policy was in place to prevent the use of children in combat, the Commission noted that this policy was not uniformly adhered to and that it was unclear what 'in combat' meant, and whether it included such auxiliary roles.[Endnote] The Commission's reports also document the looting, vandalising, and burning of schools by Government forces in retaliation for student protests, as well as their use as 'military staging grounds, temporary bases and sniper posts' and even the installation of gun emplacements on school roofs while students were attending classes.[Endnote]
The Commission's findings are in line with other UN reports, such as the April 2012 Report by the Secretary-General, 'Children in Armed Conflict',[Endnote] as well as with those of international NGOs.[Endnote]
10. Other violations
Other violations perpetrated during the Syrian conflict have included attacks on protected persons and objects, notably via the Government's use of hospitals, schools and other civilian buildings as 'military staging grounds, temporary bases and sniper posts' and by targeting members of the Syrian Arab Red Crescent.[Endnote] The Commission of Inquiry expressed the view that
These acts may also be prosecutable as a war crime. Furthermore, by positioning its military assets, which are legitimate targets of enemy forces, inside civilian objects, Government forces are violating the international humanitarian law principle of distinction. Government forces have also violated international humanitarian law by deliberately shelling field clinics.[Endnote]
Pillaging and destruction of property, amounting to a war crime, was mainly perpetrated by Government forces and members of the Shabbiha against 'groups and individuals who appeared to be defectors, members of anti-Government armed groups, demonstrators, and family members of the aforementioned.'[Endnote] Other violations of economic and social rights occurred, including the obstruction and denial of medical assistance to the injured and sick, denial of the right to food and water,[Endnote] and of the right to education by curtailing the access to schools.[Endnote] Displacement and the restriction of movement have also been problematic, with reports surfacing of 'Syrian security and military forces using live fire against, and sometimes killing, individuals trying to flee the country' and of mines placed near the borders with Lebanon and Turkey.[Endnote] Thousands have been arbitrarily displaced within the country (70,000 by February 2012, according to the Commission of Inquiry)[Endnote], while the number of refugees registered in neighbouring countries was placed at 300,000 in October 2012 – having tripled in the prior three months.[Endnote]
Conclusion
As the Syrian conflict has become protracted, the number of casualties and severity of human rights and humanitarian law abuses have increased. While the Commission of Inquiry has repeatedly called for a political solution to end the conflict, it has not failed to also identify the cases where potential war crimes and crimes against humanity had been committed. With respect to identifying those responsible, it drew attention to the fact that such violations form part of a State policy:[Endnote]
Large-scale operations conducted in different governorates, their similar modus operandi, their complexity and integrated military/security apparatus indicate involvement at the highest levels of the armed and security forces and the Government.
Worryingly, many of the crimes documented appear to have been perpetrated by the Shabbiha militia, whose 'nature, composition, hierarchy and structure…remain opaque' but who appear to act 'with the acquiescence of, in concert with or at the behest of Government forces.'[Endnote] The Commission also indicated that anti-Government armed groups must abide by international humanitarian law standards and bear responsibility for their potential war crimes, as well as for gross abuses of human rights.[Endnote] It emphasised the knowledge and failure to take measures to prevent or repress the commission of crimes of mid- and high-ranking members of Government forces, as well as the involvement of the leadership of anti-Government armed groups in ordering or committing abuses.[Endnote]
The future of the conflict is still unclear, especially as both sides have radicalised their positions. In the words of the International Crisis Group, on the one hand, there is 'a regime seemingly morphing into a formidable militia engaged in a desperate fight for survival [and] an Alawite community increasingly embattled and persuaded its fate hinges entirely on the regime's'; on the other, an opposition marred by 'retaliatory violence, sectarian killings and creeping fundamentalism within its ranks'.[Endnote] Moreover, in October 2012, attacks spilled into Turkey, who subsequently vowed to defend itself. Given such radicalisation and escalation of the violence, fears of a wider regional conflict are growing.