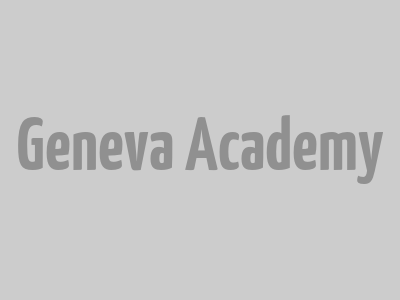 RULAC View - March 2012
---
Since Spain issued the famous arrest warrant for Augusto Pinochet, the former army general and President of Chile, in 1998, Spain has held a reputation for combating impunity of international crimes. Until very recently, Spain's national legislation on universal jurisdiction granted victims of international crimes direct access to Spanish courts, circumventing State prosecution authorities, and without requiring any connection between Spain and the case. (1) According to Article 146 of the 1949 Geneva Convention IV, universal jurisdiction does not require any such connection; it is justified solely by the gravity of the crimes, as Israel invoked in the 1961 Eichmann case.
In universal jurisdiction cases, Spanish courts, including its Supreme Court, have consistently declared amnesties granted by foreign states invalid, as occurred in the cases of Pinochet and Miguel Angel Cavallo. However, unlike foreign citizens prosecuted in Spain for international crimes on the basis of universal jurisdiction, former officials of the Spanish Franco regime have been shielded from investigation and prosecution by a 1977 Spanish Amnesty Law.
In an unprecedented ruling, Judge Garzón, who issued the original arrest warrant against Pinochet, decided on 16 October 2008 that the Spanish Amnesty Law does not apply to crimes against humanity committed by the Franco regime, since under international law such crimes cannot be shielded by amnesty laws. Following a 2006 petition by family members and associations representing victims of the Franco regime, Judge Garzón opened a criminal investigation into alleged crimes against humanity committed during the Spanish civil war and the Franco dictatorship between 1936 and 1951. In his ruling, he cited international jurisprudence, the Spanish Constitution, and judgments of the Spanish Supreme Court, which has ruled that international law shall provide the interpretation for the enforcement of crimes against humanity. (2)
Judge Garzón's ruling stirred considerable controversy. The court's jurisdiction was denied on appeal, and following a criminal complaint filed by the right-wing 'Manos Limpias' political organisation, in April 2010, Garzón was indicted on charges of prevaricación, which allows Spanish judges to be prosecuted for unjust judgments. (3) Garzón was suspended from his judicial functions, and he faced allegations that he had abused his judicial authority. The criminal trial began in Spain on 24 January 2012. Garzón has since brought a case before the European Court of Human Rights (ECtHR) challenging the lawfulness of his criminal prosecution.
The UN Special Rapporteur on the Independence of Judges and Lawyers, Gabriela Knaul, stated on 8 February 2012 that:
It is regrettable that Judge Garzón could be punished for opening an investigation which is in line with Spain's obligations to investigate human rights violations in accordance with international law principles …In the context of full respect for the independence and autonomy of the judiciary, supposed errors in judicial decisions should not be a reason for the removal of a judge and, even less, for a criminal proceeding to be launched … Autonomy in the interpretation of the law is a fundamental element in the role of a judge and for progress in human rights…No judge may fear to be independent in his or her functions.
On 27 February 2012, Judge Garzón was acquitted. However, the Amnesty Law remains applicable to Spanish crimes committed by the Franco regime. While Spain has provided legal jurisdiction for international crimes committed elsewhere, crimes that occurred in Spain remain immune from prosecution. Ironically, Franco's crimes can now only be prosecuted outside of Spain, under universal jurisdiction.
Notes
(1) The law was modified in 2009 to introduce the following restrictions:
Notwithstanding whatever may be provided in other treaties and international conventions ratified by Spain, the Spanish courts shall only have jurisdiction over the above crimes when it has been duly shown that the alleged responsible are present in Spain, or that the victims are of Spanish nationality, or that there is some demonstrated relevant link with Spain and that, in any event, there is no other competent country or international tribunal where proceedings have been initiated that constitute an effective investigation and prosecution, in the event, of the punishable facts.
(2) See paragraph 24 of the application of Judge Garzon to the ECtHR.
(3) The crime of prevaricación is defined in Article 446 of the Spanish Criminal Code as punishing "The judge or magistrate who, knowingly, dictates an unjust sentence or resolution."